Muscletech has been amongst the leading brands in the supplement industry. They specifically cater to fitness and performance-enhancing supplements for athletes and fitness fanatics. The brand has its products go through countless research and clinical trials to give its consumers the best formulation to deliver the best results and performance. Muscletech has gained the trust of its customers by providing products of high-quality and impressive value. Keep reading our MuscleTech Cell-Tech review and find out why the brand is a common item for many high-performing athletes, from weightlifters to cyclists.
There are numerous creatine supplements out in the market. All of which claim to deliver the best results in muscle development, strength-enhancing, and fatigue reduction.
Among the wide range of creatine supplements out there, Muscletech's Cell-tech caught our attention because of its performance claims and its value.
In this Muscletech Cell Tech Review, we will cover the product's pros and cons, ingredients in the formulation, flavour options, consistency, directions and servings, side effects, and price.
You May Also Like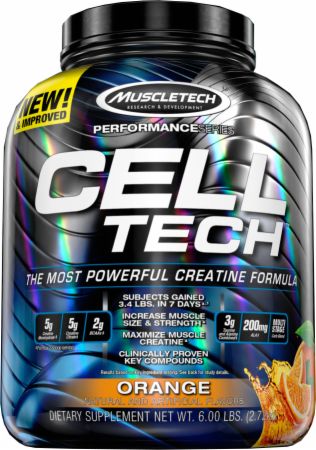 Click Image

 To See Best Price On Bodybuilding.com
Pros
Proven and tested formulation
Good Flavor
Taurine substance may improve muscle recuperation
Contains Vitamin C, Vitamin B6, Vitamin B12, sodium, and potassium
Improves muscle growth
Abundant with amino acids
Reasonable price
150 calories per scoop
Cons
Made with artificial sweeteners and colouring
May contain certain allergens such as shellfish or peanuts
Let's Take A Look At The Ingredients
The ingredients and nutritional facts will be one of the first things in a supplement's packaging that everyone will look at. It is a major key selling factor for many creatine supplement buyers.
This formulation breakdown lets you know what you are ingesting and the partition of each ingredient that is absorbed by the body. One thing you should know off the bat is Muscletech's Cell-tech is packed with muscle enhancers and energy boosters. Here are the major ingredients that are found in MuscleTech's Cell-Tech.
Creatine is a natural compound found in the body that aids the muscles in producing energy during high-intensity training or heavy weight lifting. Creatine supplements are extremely popular and highly sought-after for its strength boosting and performance-enhancing benefits.
Basically, creatine supplements improve your body's formation of adenosine triphosphate or ATP. When your body exerts effort, ATP is broken down to generate energy. In short, creatine helps you produce more energy to power you through intense exercises.
Alpha-lipoic acid or ALA is vital for the body's energy production at a cellular level. In fact, the body can produce its own sufficient supply ALA naturally. You may even find them in some food sources such as potatoes, spinach, and animal liver.
ALA is an antioxidant, which means that this compound protects your cells from various forms of damage. It is known that taking ALA supplements help enhance your body's state against certain health conditions.
Branched-chain Amino Acids
There are nine essential amino acids out of twenty that make up a vast number of proteins in the human body. And out of those nine essential amino acids are three branched-chain amino acids or BCAA. These three are L-leucine, L-valine, and L-isoleucine.
These branched-chain amino acids are commonly found in dairy products, meat, and many other protein-rich foods. One of the main benefits of BCAAs is its ability to promote muscle growth.
Research also suggests that BCAAs help reduce muscle soreness, muscle fatigue, and decrease muscle damage after working out of doing strenuous activities.
L-alanine is an amino acid that is categorized as a non-essential amino acid. The body uses L-alanine to produce protein and promotes our muscles to repair themselves.
Though the breakdown of this amino acid in the body is not for the sole purpose of muscle recuperation. At times, L-alanine is used by the body as fuel, if you do not have any reserved or stored fat to convert into energy.
You can commonly find this ingredient in energy drinks. It is known as an amino sulfonic acid. This amino acid can also be obtained by consuming meat and fish.
Many would ingest taurine supplements or taurine rich foods to stimulate metabolism. Some researchers say that taurine aids in the prevention of brain, eye, cardiovascular, and immune system diseases. It helps the body maintain hydration, electrolyte, and calcium levels within your body's cells.
With all the muscle-enhancing ingredients found in Cell-tech, your body will experience improved blood and oxygen circulation by increasing the capacity of your cells. This improved cellular volume in your body allows all your muscles and organs to perform better because of enhanced blood flow and the amplified flow of nutrients.
As you further take Cell-tech, you may notice that it takes more effort to tire you, muscle recuperation period is reduced, and your performance curve has increased. This effect will result in increased muscle mass and strength.
What About Flavour
It is always interesting to have a variety of flavour options, especially for those who want alternatives for their taste buds. Muscletech's Cell-tech is available in three delicious flavours, fruit punch, orange, and grape.
Having a tasty post-workout beverage will keep you looking forward to consuming your drink. All three flavours taste very similar to your usual powdered juices such as Kool-Aid or Tang.
This is an outstanding attribute for a supplement as most of them do not taste quite well. The majority of Cell-tech consumers praise the fruit punch flavour as it reminds them of Kool-Aid's tropical punch.
You May Also Like
Consistency And Mixability
Many post-workout beverages fall victim to poor consistency and dissolving problems. These chunky bits of powder in your drink can be annoying and dissatisfying. It is quite sad to note that Microtech's Cell-tech creatine supplement has below average to poor consistency.
You may need to mix it with a blender or a high-quality shaker bottle to avoid the powder from clumping up; shaking this with a regular bottle or mixing it with a spoon will require a lot of effort to completely dissolve the creatine powder.
It's important to note that you should really invest in a quality shaker bottle if you want to avoid chunks of powder getting stuck at the bottom or sides of your bottle and that sandy or gritty feeling in your mouth due to undissolved powder.
How To Take MuscleTech Cell-Tech
The amount of servings you take within a day will depend on your workout schedule or your desired intake frequency of creatine. Generally, you would want to take a scoop of Cell-tech with 6-8 oz. of water right after your training session.
During your rest days, having one serving of Cell-tech right after you wake up is ideal. You may also want to take one serving after your first meal and one post-workout.
Information that we have gathered for this Muscletech Cell-tech review suggests taking two scoops in 12-16 oz. of liquid after your training session will yield the best results; the same amount of scoops and liquid may also be taken in the morning, before having breakfast.
Related Article – Our Full Legion Recharge Post Workout Review
Are There Any Side Effects
Common side effects of creatine – though not everyone experiences them, and they are usually rare instances – are dizziness, cramping, nausea, and flatulence.
Microtech's Cell-tech creatine powder contains high carbohydrate content, with one scoop containing 150 calories. Looking at the nutritional facts, once again, you will notice that there are 15 grams of sugar per scoop.
That means that taking this requires you to constantly workout and burn calories. You must be especially wary of this if you plan on taking the two-scoop serving suggestion.
With the high number of calories and sugar in each serving, not staying active or not exercising sufficiently may lead to weight gain.
Value For Money
In terms of Cell-tech's product offers, MuscleTech offers this in two sizes, 3 pounds and 6 pounds. Prices may vary depending on the store you will be acquiring your Cell-tech.
Generally, the 3-pound option will cost you around $29.99 to $35.99 and the 6-pound option will cost around $47.99 to $53.99. That being said, you can easily say that Cell-tech is one of the more affordable options amongst its competitors.
Price does not determine the quality of this product. In fact, you are paying for outstanding value when you look at the formulation in relation to its price.
Many users have reported physique improvement and muscle growth with constant use. Muscletech has yet again impressed us with the incredible value of Cell-tech.
MuscleTech Cell-Tech Review Key Takeaway
Microtech's Cell-tech creatine supplement is a promising product which is not all hype, with proven results from a slew of users, this product stands alongside the best in its segment.
With its stunning price tag and nutritious ingredients, Cell-tech will be a great option for those who wish to hit the gym on a daily basis and grow muscle and also those whose goal is to beast out on the rack.
While taking this product, the fact that you will constantly gain muscle will motivate you to be consistent with your routine and knock down all of your goals.
Although all the benefits of this wonderful creatine supplement may seem too good to be true, there are some disadvantages as well. These are not drastic cons, but it may deter some buyers from pursuing Cell-tech as their top choice.
Like many other creatine supplements, Cell-tech's mixability is poor. You may have a difficult time achieving a smooth drink, especially if you are simply shaking it in a bottle or stirring it in a glass.
The gritty or sandy feeling it leaves in your mouth due to easily solidifying is also viewed as a negative point. These are the only disadvantages that we have seen and that have been reported. If you don't mind any of these, then without a shadow of a doubt, this is a highly recommendable choice.
You May Also Like
If you enjoyed this content and would like to keep it close to you at any time, just save 
THIS PIN

 to one of your supplement or fitness product boards
We independently research and recommend the best products; We may receive commissions on purchases made from our chosen links.
Hi, I'm David and I believe absolutely anyone can achieve the body of their dreams. I'm a qualified health and fitness coach and have been helping clients achieve their dream bodies for 15 years. Whether you are looking to get beach body ready, compete in a bodybuilding show or simply to improve your confidence and wellbeing, I can help.